Season's Highlights
27 CONCERTS
Friday (6 PM) & Sunday (5 PM) concerts are at the Highlands Performing Arts Center
Saturday and Monday concerts (both 5 PM) are at the Albert Carlton Library in Cashiers
Grand Opening Receptions
48 internationally acclaimed musicians
Solo works to large chamber ensembles
Feasts of the Festival
Open rehearsals
Final Gala Concert and Dinner
Board of Directors
Kathy Whitehead, President
Ann Abrams
Hyonja Lee Abrons
Susan Belcher
David Blum
Lynne Browne
Minnie Bob Campbell
Debbie Davidoff
Judy Freeman
H. Laurence Fuller
Gay Graves
Olivia Holt
Tim Hughes
Frank Langford
Keturah Paulk
Dr. Richard Strub
Bobsie Swift
Caroline Theus
WELCOME to our 32nd Festival Season!
The world's greatest music, internationally-known performers, beautifully intimate settings, the cool mountains, fine art and dining, theatre and film, golf, shopping – make your plans now to join us for an unforgettable summer at the Highlands-Cashiers Chamber Music Festival as we celebrate our 32nd season of chamber music at its best!
Creative programming and extraordinary, internationally-known artists are a signature of our Festival. We kick off early in May this year with Martinis and Mozart @ Wolfgang's on May 19th. We also offer our popular annual Picnic Concert at the Zachary-Tolbert House in Cashiers on June 26th to whet your appetite for more to come, with the Smoky Mountain Brass Quintet, and you can hear them again at Town Square in Highlands on July 6th.
The season proper begins in June this year, on June 28th, with an all-star cast led by violinist William Preucil performing Mozart, Brahms and Mendelssohn. We take a break over the July 4th weekend, but pick up again July 12th with the ever-popular Eroica Trio. In addition to their own program, they also perform "Eroica Plus" with guest friends.
"The Magic Flute" welcomes flutist Anthony Reiss from Germany to the Festival for his debut on July 19/20, as well as Belgian clarinetist Roeland Hendrikx joining us for the first time. The Vega String Quartet will be back for late Beethoven and Schubert, and the dynamic young Parker Quartet, recent winners of the Grammy Award for Chamber Music, come to the Festival for the first time, playing Mozart, Shostakovich and Beethoven.
Have some fun July 28/29 with the latest incarnation of our "Jazz Meets Classics" series, this time, presenting "The Joy of Sax" with Dwight Andrews, Leo Saguiguit, Gary Motley and newcomer pianist Elena Cholakova trading turns with classical and jazz selections for sax and piano. I will take a solo turn, giving a solo piano recital for the first time at the Festival on July 26/27 with music of Chopin, Beethoven, and Gershwin.
Whenever we are able to present the Festival Chamber Orchestra, the concerts are always a major highlight of the season - and so our final Gala Concert (and wonderful Dinner after!) on Sunday, August 11th will feature the Orchestra in our first-ever performance of Bach's great Concerto for Oboe and Violin. We are delighted to welcome back Eugene Izotov, principal oboe from the Chicago Symphony, and feature the Festival debut of the brilliant young concertmaster of the Atlanta Symphony, David Coucheron. He will join violist Yinzi Kong for Mozart's perfect Sinfonia Concertante to close the season. Don't miss this one!
These are only some of the highlights of our 32nd season – and of course, we offer Festival Feasts, numerous free concerts, and additional Festival events- make your plans NOW to join us in Highlands and Cashiers this summer for another unforgettable Festival!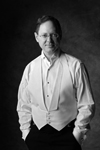 William Ransom, Artistic Director
Phone: 828-526-9060
Email: hccmf@frontier.com
Fax: 828-526-4893
William Ransom
Artistic Director
Nancy Gould-Aaron
Executive Director
Lucas Drew
Artistic Director Emeritus