Special Performances, Benefits and Lectures
Martinis and Mozart at Wolfgang's Wine Bistro
Sunday, May 19th 5-7 PM
HCCMF invites you to Wolfgang's Restaurant and Wine Bistro for an evening of fun and festivities to kick-off the 32nd Season of the Highlands-Cashiers Chamber Music Festival. Wolfgang and Mindy Green are proud to sponsor this special event to benefit the Festival. Enjoy martinis, wine and the Bistro's specialty lamb pops, crabcakes and much more before a première performance of Mozart by the popular Vega String Quartet. Reservations for the evening can be made through the HCCMF office at 828-526-9060 or hccmf@frontier.com. Pricing for Martinis and Mozart is $85.00 per person
Salon at Six
Sunday, June 16th, 530-7 PM at the home of Kathy and Mark Whitehead
This Season, HCCMF is offering a new venue, similar to our Feasts of the Festival program. The Whitehead's Salon at Six will feature wine from 530-6PM, followed by a musical program (approximately one half hour) by Artistic Director and pianist extraordinaire, William Ransom. After Ransom's performance, there will be a short reception of light hors d'oeuvres with Dr. Ransom in attendance. Reservations can be made through the HCCMF office at 828-526-9060 or hccmf@frontier.com. Ticket price for this event is $50.00 per person.
Wednesday Dinner with LAKESIDE RESTAURANT
Wednesday, July 10th
Lakeside Restaurant, Marty Rosenfield and Donna Woods are again hosting a special Wednesday evening dinner on July 10th starting at 530PM. This event will benefit the Highlands-Cashiers Chamber Music Festival; Marty and Donna are graciously donating a percentage of each supporter's dinner to the Festival. Because seating is limited, mark your calendar now to participate in this fun evening on Harris Lake! CALL 828-526-9419 AND MENTION HCCMF.
Salon at Six with Alfred Uhry
Thursday, July 11th, 530-7 PM
Thursday, July 11th a second HCCMF Salon at Six will be held at the home of Olivia and Bob Holt. This special evening will feature playwright, Alfred Uhry, best known for his plays Driving Miss Daisy and The Last Night of Ballyhoo. He is also distinguished as being the only American to have won a Pulitzer Prize, an Academy Award and two Tony Awards.
Wine will be served from 530-6PM. Mr. Uhry will speak on "Music and Me" at 6PM followed by a short reception of light hors d'oeuvres. Tickets are $50 per person.
"Bach at Bucks"
Wednesday night, July 17th, enjoy free informal Chamber Music at Buck's Coffee Café on Main Street in Highlands with the members of the Vega String Quartet. Also join us for our expanded location program at the Buck's in Cashiers, at the Crossroads, on Wednesday, July 24th with the Vega String Quartet. Performances begin at 8 PM.
Picnic Concert in Cashiers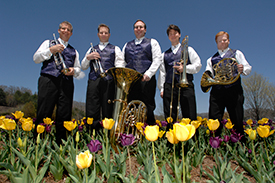 Wednesday, June 26th at 5 PM
Festival favorites, The Smoky Mountain Brass Quintet, will once again entertain picnic-goers. This fun, free annual outdoor concert will be at the Zachary-Tolbert House in Cashiers. Bring a picnic and blanket and enjoy the music!
Free Concert at Town Square – Highlands
Saturday, July 6th @ 3 PM
Join the Smoky Mountain Brass Quintet for a free concert on Saturday, July 6th from 3 to 5 PM. This concert will take place at Town Square, Main Street in Highlands and is sponsored by the Highlands-Cashiers chamber Music Festival.
"Come to the Cabaret!"
Highlands-Cashiers Chamber Music Festival, Highlands Playhouse and Wolfgang's Restaurant and Wine Bistro: A Collaboration
Sunday, September 15th, 6 PM @ Highlands Playhouse
"Come to the Cabaret!" A Cabaret-style concert, featuring the dynamic duo of Jason and Carrie Hardy singing some of the most beloved Broadway, Opera, and American Songbook favorites, with pianist William Ransom assisting.
Enjoy fine wine, fine food catered by Wolfgang's Restaurant and a fun-filled evening of exciting music - all to benefit the Highlands Playhouse and Highlands-Cashiers Chamber Music Festival. Ticket price - $100 per person. Call 828-526-9060 for reservations
Festival/Center for Life Enrichment Classes
"The Musical Brain"
Dr. Paul Lennard
Saturday, Jun 29th, 10 AM-12 PM @ the PAC
Dr. Paul Lennard, founder and director of the Neuroscience and Behavioral Biology Program at Emory University, and husband of renowned violinist Cecylia Arzewski, explores the development of the musical mind from infancy to adulthood and asks the question, "How are the brains of composers, conductors, and performers different?" "What makes something musical and how are the complex sounds of music processed by the brain?" The relationships of music to language, emotion and memory will be examined in detail. Evidence of the efficacy of music therapy and the impact of music on mental health are evaluated.
"James Joyce's Chamber Music"
Dr. James Flannery
Saturday July 13th , 10 AM – 12 PM @ the PAC
Led by Dr. James Flannery, who has been called "Irish America's Renaissance Man" because of his multiple talents as a producer, stage director, singer, scholar, critic and teacher, this class will focus on Joyce's beautiful set of 36 poems, and on Joyce's "alternate life" as a musician. Dr. Flannery will explore Joyce's great love of and use of music in his writing, and the similarities between poetry and music. The class will include some performances by Dr. Flannery of some of Joyce's favorite songs.
"String Theory"
Dr. Sidney Perkowitz
Saturday, July 20th , 10 AM – 12 PM @ the PAC
Renowned physicist Dr. Sidney Perkowitz and the Vega Quartet together, in words and music, explore the connections between science and music. String Theory is traced from its ancient origins through the Renaissance, then on from the age of science to contemporary thought on the subject. Dr. Perkowitz suggests that the influence of music may lead to a whole new way of thinking about String Theory and Physics- "contrapuntal Physics".
"Jazz Meets Classics"
Dr. Dwight Andrews
Saturday, July 27th, 10 AM – 12 PM @ the PAC
Dr. Dwight Andrews, Emory University theorist, composer, minister and jazzman, returns to continue his popular exploration of the relationship between Jazz and Classical music- this time, focusing on the role of the saxophone in both genres.
For class tickets please call CLE at 828-526-8811, email clehighlands@yahoo.com or visit their website at www.clehighlands.org. For concert tickets, please call HCCMF at 828-526-9060, email hccmf@fontier.com or visit h-cmusicfestival.org.
Concert Programs
In an effort to make the concerts easier to identify, we have color-coded the concerts — HIGHLANDS concerts (Friday & Sunday) in Blue and CASHIERS concerts (Saturday & Monday) in Red.
Opening Gala Concerts and Receptions

Friday, June 28th, 6 PM

Saturday, June 29th, 5PM

Mozart: G Minor Piano Quartet

Brahms: Viola Sonata in Eb

Mendelssohn: Viola Quintet in Bb


William Preucil, violin; Alexandra Preucil, violin; Jennifer Stumm, viola; Paul Murphy, viola; Charae Krueger, cello; William Ransom, piano

Sunday, June 30th, 5 PM

Monday, July 1st, 5PM

"The Four Bs: Bach, Beethoven, Brahms and Bill!"

Bach: Sonata in E Major

Brahms: Sonata in D Minor

Beethoven: Kreutzer Sonata

William Preucil, violin; William Ransom, piano


Clockwise from top left:
A. Preucil, W. Preucil, J. Stumm,
P. Murphy, C. Krueger, W. Ransom
Week Two: July 12th-15th


Clockwise from top left: The Eroica Trio, M. Maloney,
M. Hoffman

Friday, July 12th, 6PM

Saturday, July 13th, 5PM

The Eroica Trio

J.S. Bach: Chaconne

Bruce Wolosoff: Trio

Frank Martin: Piano Trio based on Irish Folk Tunes

Sara Sant'Ambrogio, cello; Erika Nickrenz, piano; Sara Parkins, violin

Sunday, July 14th, 5 PM

Monday, July 15th, 5 PM

"Eroica Plus"

Loiellet: Sonata in B Minor for Trio

Dvorak: Piano Quartet in Eb Major

Schumann: Piano Quintet in Eb Major

Sara Sant'Ambrogio, cello; Erika Nickrenz, piano; Sara Parkins, violin; Miles Hoffman, viola; Margeaux Maloney, violin
Week Three: July 19th-22nd


Clockwise from top left: Vega String Quartet, Reiss,
Hendrikx, Whitcup, W. Ransom

Friday, July 19th, 6 PM

Saturday, July 20th, 5 PM

"The Magic Flute"
Mozart: Flute Quartet in D Major

Arnold: Duo for flute and viola

Faure and Ibert: pieces for flute and harp

Beethoven: String Quartet in Eb Major, Op 127

Vega String Quartet; Anthony Reiss, flute; Roeland Hendrikx, clarinet; Valerie Von Pechy Whitcup, harp

Sunday, July 21st, 5 PM

Monday, July 22nd, 5 PM

Beethoven: Trio for clarinet, cello and piano

Piet Swerts: Clarinet Quintet

Mendelssohn: String Quartet in G Major

Vega String Quartet, Roeland Hendrikx, clarinet, William Ransom, piano
Week Four: July 26th-July 29th


Clockwise from top left: W. Ransom, Saguiguit, Andrews, Cholakova, Motley

Friday, July 26th, 6 PM

Saturday, July 27th, 5 PM

"Ransom Solo"

Chopin: Ballade #3, Mazurka in A;
Scherzo #1

Beethoven: Waldstein Sonata

Steven Paulus: Preludes, Book I

Gershwin: Rhapsody in Blue

William Ransom, piano

Sunday, July 28th, 5 PM

Monday, July 29th, 5 PM

"The Joy of Sax"

Fernande Decruck: Sonata in C#
Richard Rodney Bennett-Ballad in memory of Shirley Horn

Irwin Schulhoff: Hot Sonata

Jazz selections to be announced

Leo Saguiguit, classical sax; Dwight Andrews, jazz sax; Elena Cholakova, classical piano; Gary Motley, jazz piano
Week Five: August 2nd-5th


W. Ransom, The Parker String Quartet

Friday, August 2nd, 6 PM

Saturday, August 3rd, 5 PM

The Parker String Quartet

W.A. Mozart: String Quartet K. 428

Schulhoff: Quartet No. 1

Beethoven: Quartet in E flat Major, Op 74 "Harp"

Daniel Chong, violin; Karen Kim, violin; Jessica Bodner, viola; Kee-Hyum Kim, cello

Sunday, August 4th, 5 PM

Monday, August 5th, 5 PM

The Parker Quartet with William Ransom

Beethoven: Quartet in Bb Major, Op. 18 No. 6

Shostakovich: Quartet #11

Dvorak: Piano Quintet in A Major

Daniel Chong, violin; Karen Kim, violin; Jessica Bodner, viola; Kee-Hyum Kim, cello; William Ransom, piano
Week Six: August 9th-10th


Clockwise from top left: Coucherons, K. Ransom, W. Ransom


Friday, August 9th, 6 PM

Saturday, August 10th, 5 PM

"Sibling Rivalry"

Debussy: Petite Suite for Piano 4 Hands

Prokofiev: Violin Sonata in D Major

Leclair: Duo for 2 violins

Franck: Violin Sonata in A

David Coucheron, violin; Julie Coucheron, piano; Kate Ransom, violin; William Ransom, piano
Final Gala Concert
and Dinner Party
Sunday, August 11th at 5 PM Highlands Performing Arts Center

The Festival Chamber Orchestra

J.S. Bach: Concerto for Oboe and Violin in C Minor

W.A. Mozart: Sinfonia Concertante for Violin and Viola

David Coucheron, violin; Eugene Izotov, oboe.

Violins: Domenic Salerni, Helen Kim, Adda Kridler, Jessica Wu, Eun Sun Lee, Kate Ransom, Margeaux Maloney, Chris Pulgram

Violas: Yinzi Kong, Allan Sandlin, Allyson Fleck

Celli: Charae Krueger, Guang Wang

Horns: Brice Andrus, Susan Welty

Harpsichord: Timothy Albrecht

Oboe: Dane Philipsen

Bass: Joe McFadden

Dinner follows at Wildcat Cliffs Country Club


Left to Right: Fleck, Kridler, Andrus, Krueger, Albrecht, Philipsen, Coucheron, Lee, Kim, Pulgram, McFadden, Maloney, Ransom, Sandlin, Welty, Vega String Quartet, Izotov,
William Ransom
Artistic Director
Nancy Gould-Aaron
Executive Director
Lucas Drew
Artistic Director Emeritus